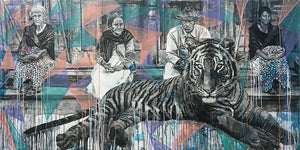 80" x 40" Original Drawing using:

Charcoal, Soft + Oil Pastel, Acrylic on Wood
The search for harmony and balance in life may be the most universal goal we as a species strive for. Your lot in life will not interfere with this desire. When it's finally attained, savor it, know it is fleeting, and strive to find it again. In the meantime, watch out for the tigers...